Clairvoyant Home
>
About Clairvoyants
Clairvoyants Can Help You
At the end of our lives we will not remember how much money we made, how much sport we watched, or how many things we possessed. What will come back to us in a brilliant and blinding light will be ... the quality of the relationships we formed with those we loved: our family, our spouse, our children, our friends. Here, our clairvoyants will give you an insight into your deeper self, see beyond your ordinary consciousness and find the path you need to take to fulfill your dreams.
CLAIRVOYANTS: Help when you're looking for answers
Are you confused, unhappy or frustrated? Is your work failing to satisfy you?
Has a lost relationship left you feeling lonely and depressed, in need of someone to turn to?
Our clairvoyants will give you reliable and genuinereadings and helpful advice. Whether you need to know about love or work, family or money, you will be dazzled by the insights of our gifted clairvoyants.
What do clairvoyants do?
The word clairvoyance comes from the French 'clear seeing', an apt description of the ability to see through time and space, unhindered by earthly restrictions. Clairvoyants receive a picture in their mind's eye from the messages they are receiving. Imagery can be quite vivid, but it is possible for a message to appear in the form of a feeling, from physical sensations such as hot and cold to emotions such as happiness or fear.
Spiritualists also use the term to mean seeing or hearing the spirits of the dead that are said to surround the living. It usually refers to readings in which the clairvoyant looks into a situation without the restrictions of the use of cards or any other psychic medium.
If you would like some advice on developing your clairvoyant abilities our why not book a Credit Card Psychic Clairvoyant Reading and talk to an expert.
---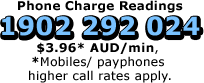 ---
Thank you for visiting our genuine clairvoyant site
We believe and hope that this will be the most beneficial and helpful psychic site that you will visit. We would like to invite you to come along with If you are not happy with your clairvoyant reading, you are eligible to receive a free 10 minute reading with another clairvoyant. This is only valid for Credit Card clients only. Please call the Psychic Helpdesk to authorise your credit. You must accept and agree to our Terms of Use before proceeding with the reading.
NT
In order to use our services, you must first accept our terms of use.
Please note that clairvoyants.com.au and its owners are not to be held responsible for any type of damages (including indirect, direct, incidental or consequential, or punitive damages) arising from using this site and its content.
Positive thoughts lead to good health and wellbeing.