Clairvoyant Home
>
Clairvoyant Reading
Clairvoyant Reading
Though clairvoyant means clear seeing, clairvoyant reading is a comprehensive term. It includes reading or interpreting the visual, auditory or sensory images that appear before the mind's eye or the third eye of the clairvoyant psychic. The visual, auditory and sensory abilities of the psychic work simultaneously and in tandem to arrive at a clear understanding of the event, situation or a person. It is like seeing an event or an action in totality where the actors interact with each other and the various situations and events at a given space and time. Clairvoyant reading takes place when the psychic goes into a kind of wakeful and conscious trance, which is different from the trance of the psychic medium who totally surrenders his body and consciousness to the guiding spirit.
In the case of clairvoyant reading, the psychic develops a subtle contact with the divine spirit, which enables her to remain as awake and active as she is in this world so that the client is usually unaware of the transcendental shift in his awareness. The difference between the awakening of the clairvoyant abilities of the psychic and an ordinary person is that while the psychic is in command of her abilities and can evoke them at her will, the ordinary person experiences the clairvoyance only under certain emotional circumstances.
For example, we all are aware of the clairvoyant faculty of a mother who wakes up when her son is fighting at a war front. Joan of Arc, later canonized as Saint Joan, presented a glaring example of auditory clairvoyance. All those familiar with her history will be aware that she would hear the church bells conveying certain strategic messages. She would see the visions of St. Michael calling upon her to act in a certain way during the war.
When laboratory tests of clairvoyant abilities like EVP are conducted, the laypersons witnessing the test hear gibberish which the clairvoyant psychic translates and interprets into cohesive, logical and intelligible language. This understanding is without doubt based on the clairvoyant reading abilities of the psychics.
Consult our Clairvoyants at Clairvoyant Readers and you will be able to see for yourself how their readings are and how they can transform your life in a positive manner.


Find out more on Clairvoyant Readings here!
---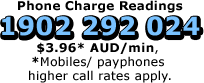 ---
Thank you for visiting our genuine clairvoyant site
We believe and hope that this will be the most beneficial and helpful psychic site that you will visit. We would like to invite you to come along with If you are not happy with your clairvoyant reading, you are eligible to receive a free 10 minute reading with another clairvoyant. This is only valid for Credit Card clients only. Please call the Psychic Helpdesk to authorise your credit. You must accept and agree to our Terms of Use before proceeding with the reading.
NT
In order to use our services, you must first accept our terms of use.
Please note that clairvoyants.com.au and its owners are not to be held responsible for any type of damages (including indirect, direct, incidental or consequential, or punitive damages) arising from using this site and its content.
Positive thoughts lead to good health and wellbeing.