Clairvoyant Home
>
FAQs
Frequently Asked Questions
What is a Clairvoyant?
A clairvoyant is someone who is gifted in seeing the future clearly. Clairvoyants are able to see the future. Read here for a definition of a Clairvoyant.
How can I get a Clairvoyant Reading?
To get a reading from one of our genuine and gifted clairvoyant readers simply call one of our numbers below.
How can I pay for the Reading?
You can pay using your credit card or phone charge depending which country you are from. See below for your payment toptions.
How is it possible to give a reading over long distance?
This is what clairvoyance is about. Clairvoyant energy transcends space and time. Clairvoyant psychics visualize you and your situation through several powers such as intuition, empathy, telepathy and third eye. They spiritually connect—empathize - with you maintaining a state of complete objectivity at the same time which makes it easy for them to view the problems of the clients in true perspective.
Do I need to provide any personal information before asking questions?
Absolutely not. You only need to tell your name and state your problem. In case, the clairvoyant psychic is a numerologist or astrologer, you may have to tell your place and date of birth as well. This simple information helps the numerologists to make some calculations and the astrologers to cast natal chart or horoscope.
Do you provide any negative or frightening readings?
We cannot withhold the truths, however, unsavoury they may be. Moreover, it would not be in the interest of the clients to hear falsehoods, howsoever, sweet and promising they might appear. We do not tell you what you want to hear, but what you need to hear and understand.
Nonetheless, the unpalatable readings are not meant to threaten the clients, but forewarn and prepare them to face them. The clairvoyants also provide ways out of the difficult situations. For example, if we tell you you are a reckless driver and may meet an accident, it is surely not a negative reading. It only urges you to observe the rules of safe driving.
Can it be guaranteed that the predictions will come true?
Our predictions come true within certain parameters. For example, the prediction that you will be able to marry your soul mate may not come true if you in the meantime take fancy to someone else; stop paying her the attention she deserves or do not abide by the rules of the relationship properly.
Similarly, the prediction that you will get your dream job may not come true if you stop preparing for it thoroughly; are bogged down in a traffic snarl and cannot make for the interview in time or are allured by some other more attractive option. There are several other possibilities.
---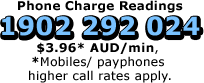 ---
Thank you for visiting our genuine clairvoyant site
We believe and hope that this will be the most beneficial and helpful psychic site that you will visit. We would like to invite you to come along with If you are not happy with your clairvoyant reading, you are eligible to receive a free 10 minute reading with another clairvoyant. This is only valid for Credit Card clients only. Please call the Psychic Helpdesk to authorise your credit. You must accept and agree to our Terms of Use before proceeding with the reading.
NT
In order to use our services, you must first accept our terms of use.
Please note that clairvoyants.com.au and its owners are not to be held responsible for any type of damages (including indirect, direct, incidental or consequential, or punitive damages) arising from using this site and its content.
Positive thoughts lead to good health and wellbeing.