Clairvoyant Home
>
Online Clairvoyants
Online Clairvoyants
Online clairvoyants provides instant psychic solutions to your day-to-day or other problems and all this and more while you are sitting in the comfort of your home. Usually there are many psychics and online clairvoyants who offer their services through a common website. It is advisable that you make yourself conversant with the various tools and methods that the clairvoyants and psychics employ in their guidance and counseling sessions.
For this, you should log on to the resources page of the website. You can acquire a comprehensive knowledge about the specific terminology and the methodology of the metaphysical science of clairvoyance. Every clairvoyant psychic on the panel of the website publishes his/her special qualifications, his/her fee and also the number of satisfied customers with their comments and contact numbers. Go through the claims of each clairvoyant and select the one who suits your needs the best.
Some clairvoyants also provide free samples of their services to convince the clients about the quality of their predictions and guidance. Do avail of the chance for free guidance. If you feel satisfied with the level of experience of the clairvoyant, you can go ahead for paid guidance. The freely acquired information would put you on a surer footing before you commit yourself to an online clairvoyant with your vital personal information and email address.

Every major psychic website has a platform for online chat with the psychic clairvoyant. But before you get into the online chat, prepare a list of all the questions, and follow up questions also, if possible, that you need to ask. It may save you a lot of time in thinking out the right language to frame relevant and to the point questions. Focus on your subject and do not let your mind wander away while you are chatting. It may distract the clairvoyant psychic unnecessarily. Moreover, the more time you spend, the more you may have to pay.
---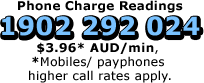 ---
Thank you for visiting our genuine clairvoyant site
We believe and hope that this will be the most beneficial and helpful psychic site that you will visit. We would like to invite you to come along with If you are not happy with your clairvoyant reading, you are eligible to receive a free 10 minute reading with another clairvoyant. This is only valid for Credit Card clients only. Please call the Psychic Helpdesk to authorise your credit. You must accept and agree to our Terms of Use before proceeding with the reading.
NT
In order to use our services, you must first accept our terms of use.
Please note that clairvoyants.com.au and its owners are not to be held responsible for any type of damages (including indirect, direct, incidental or consequential, or punitive damages) arising from using this site and its content.
Positive thoughts lead to good health and wellbeing.