Clairvoyant News
Clairvoyant News - Premonition Saved Lives at Crossing
A bad premonition prevented another family from attempting to cross the same river which acclaimed the lives of two children last weekend.
Mick Beatty was all set to cross the deceptively deep and fast flowing Blackwood River near Nannup on Tuesday of last week – three nights before the tragedy – when his partner and her mother screamed at him to stop. He said he argued to cross the river but his partner and her mother became almost hysterical at him.
"Her mother is Fijian-Indian and she said she had a premonition that something terrible was going to happen there. She said something was really wrong, so I just backed out because I didn't want to get into an argument," Mr Beatty explained.
He wanted to offer support to Craig Anstey whose jeep was washed away last Friday. Mr Anstey managed to scramble clear with his partner, Clare Smyth, but his son, Jack, 7, and her daughter Ashleigh Mungur, 8, drowned in the back of the jeep.
"Listening to talkback radio this week, it appeared that people were putting a lot of blame on him, but that is the last thing he needs," Mr Beatty said. "If they could have seen what I saw … I can verify it was just like a millpond as he said."
This news story is an excerpt from an article titled "Premonition saved lives at crossing" on the Sunday Times, 12 October 2003, by John Flint and Jim Kelly.

Back to top
---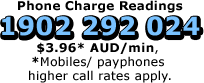 ---
Thank you for visiting our genuine clairvoyant site
We believe and hope that this will be the most beneficial and helpful psychic site that you will visit. We would like to invite you to come along with If you are not happy with your clairvoyant reading, you are eligible to receive a free 10 minute reading with another clairvoyant. This is only valid for Credit Card clients only. Please call the Psychic Helpdesk to authorise your credit. You must accept and agree to our Terms of Use before proceeding with the reading.
NT
In order to use our services, you must first accept our terms of use.
Please note that clairvoyants.com.au and its owners are not to be held responsible for any type of damages (including indirect, direct, incidental or consequential, or punitive damages) arising from using this site and its content.
Positive thoughts lead to good health and wellbeing.