Clairvoyant Home
>
Horoscopes
Horoscopes
Horoscopes are narrative predictions of the upcoming events in one's life based on readings done by astrologers. Astrologers base their readings from planetary movements and the relationship of these to the stars in the universe.
hese readings can reveal so much. They reveal events that will transpire within the year or the years to come. They can even tell the person more about their personalities since it has been found that those who are born under the same zodiac sign have more or less the same characteristics and traits.
If one browses through the internet, there are several sites offering free horoscopes online.
With these, people do not need to go far to buy a newspaper or to consult an astrologer. Through the simple use of a computer with internet connection, one can find out what to watch out for and what to expect in the day, week, month, or year that follows.
Free horoscopes online have several features. Sites might offer interactive browser tools that link one to another. There are those which focus on aspects of one's life like career, love, or money. There are also those that just give general readings. Some can look at weekly, monthly, or yearly horoscope readings. As an added feature, there would also be some lucky colors of the day or lucky numbers featured within the site.
Unlike the tarot, horoscopes and astrological readings have more specific time frames therefore, a person can find out which one's will occur the soonest and which will occur later. By knowing this specific information, one can stand prepared and can prioritize his activities and his decisions. Another difference is that horoscopes do not give answers to questions the way tarot cards do. They can only give information about the present location of one's planets and stars and how these will affect one's way of life. Although horoscopes should not be the sole basis for one's decisions, one can seek guidance from them.
By knowing and by learning about the different star signs and by familiarizing these, people can become more aware of the different personalities they interact with each day thereby allowing them to develop a close personal relationship. There might be instances when a person cannot understand the other person's over-sentimentality or moodiness. Yet by reading that the person was born under the horoscope sign of cancer, he would come to acceptance of this person's personality. If the person has some air of superiority and aggressiveness, it might be because he is a Leo. If the person is confident, dynamic, and too decisive, he might be because he was born in March or April, making him an Aries.
One might not be an avid fan of horoscopes, but by reading through some of these readings, one would come to find interest in them. One can simply read the details, take note of it, and find out later if indeed the events mentioned will occur. It should be noted though that these are not definite, one change in decision, can lead to more changes in the actual horoscope reading.
---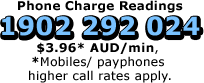 ---
Thank you for visiting our genuine clairvoyant site
We believe and hope that this will be the most beneficial and helpful psychic site that you will visit. We would like to invite you to come along with If you are not happy with your clairvoyant reading, you are eligible to receive a free 10 minute reading with another clairvoyant. This is only valid for Credit Card clients only. Please call the Psychic Helpdesk to authorise your credit. You must accept and agree to our Terms of Use before proceeding with the reading.
NT
In order to use our services, you must first accept our terms of use.
Please note that clairvoyants.com.au and its owners are not to be held responsible for any type of damages (including indirect, direct, incidental or consequential, or punitive damages) arising from using this site and its content.
Positive thoughts lead to good health and wellbeing.