How to be Clairvoyant
A clairvoyant person is one who can see clearly what cannot be seen ordinarily by the physical senses. In fact this seeing means in the sense of 'I See!' that includes hearing, sensing besides seeing. All these abilities contribute to the total understanding of the perspective. The process of understanding also involves the use of intuition that helps in all these three abilities. In fact the intuition plays a central role in integrating, coordinating and synchronizing the functioning of all these abilities into one composite whole, which is termed clairvoyance.
Every one of us possesses the clairvoyant abilities at some level of development. We quite often accurately sense the impending event before it actually takes place. We tune into the radio to listen the song that we are already listening in our mind. We often see with our mind's eye the person who just rings our doorbell. There were quite a number of ordinary people who 'saw' the planes crashing into the World Trade Center on the 9/11. All these examples demonstrate the existence of clairvoyant ability in common people, which surfaces up when there is some sort of 'tension' or 'expectation' in the air or in the ethereal world.
Though there some lucky ones who are born clairvoyants, the others who are not, can learn to be clairvoyant by making conscious effort. The only thing required to be a clairvoyant is the willingness to accept its existence within you and the determination to develop it. Where there is a will there is a way. Since clairvoyance is a psychic phenomenon, it requires typical psychic-mental- exercises and practices to develop it. The major exercise is Meditation, which involves certain breathing, focusing and guessing exercises at a fixed hour preferably in the morning at a quiet place. These exercises help to calm and cleanse the mind of the layers of negative thoughts that hide and stop the clairvoyant ability to spring up from its dormant state. Add to this your conscious effort to develop a healthy, compassionate, understanding and positive attitude in your life and you are sure to be a clairvoyant.
Speak to one of our Psychic Clairvoyants and allow them to see into your future.
---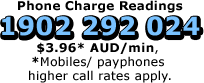 ---
Thank you for visiting our genuine clairvoyant site
We believe and hope that this will be the most beneficial and helpful psychic site that you will visit. We would like to invite you to come along with If you are not happy with your clairvoyant reading, you are eligible to receive a free 10 minute reading with another clairvoyant. This is only valid for Credit Card clients only. Please call the Psychic Helpdesk to authorise your credit. You must accept and agree to our Terms of Use before proceeding with the reading.
NT
In order to use our services, you must first accept our terms of use.
Please note that clairvoyants.com.au and its owners are not to be held responsible for any type of damages (including indirect, direct, incidental or consequential, or punitive damages) arising from using this site and its content.
Positive thoughts lead to good health and wellbeing.