Clairvoyant Home
>
What does Clairvoyant Mean?
What does Clairvoyant Mean?
Clairvoyant simply means to see clearly.Clairvoyance can be said to be ability for extra sensory perception by which a psychic clairvoyant can perceive remote events, persons and objects. She can also see through the opaque objects with the help of some divine spiritual energy, which acts like radio waves to which the psychic attunes. The clairvoyant interprets his sights through visual language. She may also hear distant sounds that are not easily accessible to auditory senses of an ordinary person. This ability is termed as clairaudience or receiving kinesthetic impressions. A clairvoyant psychic has also an ability to sense an event or a health condition. This ability is called clairsentience. For example, a clairvoyant person may sense the extent of pain and suffering a patient may be undergoing. Or, she may sense the impending sickness and forewarn the victim to take steps to protect him/herself.
There is another way of explaining the meaning of clairvoyant. Just as our physical body is able to think, see, remember and dream, in the same way, it has also the ability to host and support the etheric self's vision. The only difference that marks out a clairvoyant from an ordinary person is that the former is either born gifted with this ability or cultivates it consciously. This ability helps the psychic clairvoyant in trans-etheric communication, as her etheric self admits the ethereal objects and transforms them into cognizable information. This can be viewed during recording of the EVP. While some witnesses hear only some mumbo jumbo, the experts can sense the information as it is channeled through her body.
To have a Clairvoyant Reading today visit Clairvoyant Readings.
---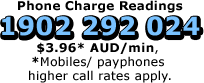 ---
Thank you for visiting our genuine clairvoyant site
We believe and hope that this will be the most beneficial and helpful psychic site that you will visit. We would like to invite you to come along with If you are not happy with your clairvoyant reading, you are eligible to receive a free 10 minute reading with another clairvoyant. This is only valid for Credit Card clients only. Please call the Psychic Helpdesk to authorise your credit. You must accept and agree to our Terms of Use before proceeding with the reading.
NT
In order to use our services, you must first accept our terms of use.
Please note that clairvoyants.com.au and its owners are not to be held responsible for any type of damages (including indirect, direct, incidental or consequential, or punitive damages) arising from using this site and its content.
Positive thoughts lead to good health and wellbeing.