Clairvoyant Home
>
Call Us
Call Us
For a clairvoyant phone reading please call us in one of the numbers below
Australian Credit Card Callers

phone $37.50 AUD for 15 minutes $2.50* AUD per minute thereafter

USA and CANADA Callers

phone $37.50 AUD for 15 minutes $2.50* AUD per minute thereafter (Credit Card)

All others countries

phone (your international code) $37.50 AUD for 15 minutes, $2.50* AUD per minute thereafter

Service Provider: Access Positive

*UK and selected countries, mobiles extra.
Or call our help desk on
1800 222 362 (AUS) or (international)
Email us at
psychichelpdesk(at)gmail.com
3 Reasons Why You Should Call a Clairvoyant
Many people would like to consult a clairvoyant for several reasons. There are some who would like to know about their career, their future, past and present life, their love life as well if they are lucky when it comes to monetary aspects. Surely, you would also like to know about these things more. Well, everyone would like to know what will happen next or what had happened before. The truth is, even in this world of technological advancement, still, many people believe in the abilities of clairvoyants. People believe that there are things which cannot be explained by Science, but can be only explained by people with special abilities.
As time passes by, the number of people who believe in the ability of a clairvpyants increases. The number of clairvoyants also increases in order to accommodate all the people who would like to receive guidance or who have questions unanswered. There are 3 good reasons on why you should call a clairvoyant:
Sometimes, there are things that can confuse us. Things that seem believable, but we just don't want to believe. There are also things that we would like to believe, but the situation does not allow us to. With all the confusions, you need someone who can confirm your beliefs. You may think that you can ask your friend about this, however, there are times that they are not capable of confirming your beliefs. Therefore, it would be great to consult a clairvoyant.

The clairvoyant can help you open windows of opportunity so that you can know more about yourself. When you know yourself well, you will become confident of what you can do. You will not be confused anymore, because you know that you can do things and that you can confirm your beliefs.
One person who can validate your intuition is the clairvoyant. He can tell if you had made a good or bad decision. He can also validate if your choices are beneficial for you and your loved ones.
Finding about your future can be fun. The reading provided by a clairvoyant can serve as a happy experience. When you find the right clairvoyant to connect with, you will feel a sense of happiness when you speak to them as you will be able to tell them almost anything that is bothering you.
---
---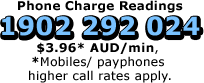 ---
Thank you for visiting our genuine clairvoyant site
We believe and hope that this will be the most beneficial and helpful psychic site that you will visit. We would like to invite you to come along with If you are not happy with your clairvoyant reading, you are eligible to receive a free 10 minute reading with another clairvoyant. This is only valid for Credit Card clients only. Please call the Psychic Helpdesk to authorise your credit. You must accept and agree to our Terms of Use before proceeding with the reading.
NT
In order to use our services, you must first accept our terms of use.
Please note that clairvoyants.com.au and its owners are not to be held responsible for any type of damages (including indirect, direct, incidental or consequential, or punitive damages) arising from using this site and its content.
Positive thoughts lead to good health and wellbeing.