Home
>
Famous Clairvoyant Psychics
>
Colin Fry
Famous Clairvoyant Psychics
Colin Fry
Colin, from an early age has been aware of his special gift. When he was still a child, people would find him cute and endearing, when he would talk about his gifts. But when he became a teenager, people either admired his gift. However, Colin knew without a doubt that he was gifted and hence at the young age of seventeen, he became a professional medium.
He is considered to be one of the United Kingdom's most famous clairvoyant. Colin regularly appears on syndicated TV shows such as "Sixth Sense", which is an essential part of the Living TV network's primetime schedule. In the "Sixth Sense", Colin helps some members of the audience connect, and communicate with their departed friends, relatives and family members. Apart from appearing in popular television programs, Colin also travels around the globe, and provides counseling services to people who are mourning the death of a family member, relative or spouse. Many of those who have seen Colin have admired him for being a sensitive, gentle, caring and unassuming man. When Colin was a kid, he already knew he had a special psychic gift, however he became a professional psychic once he reached seventeen. His first television show was publicly aired in 2002, and it became an instant hit with viewers.
---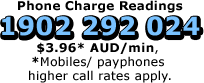 ---
Thank you for visiting our genuine clairvoyant site
We believe and hope that this will be the most beneficial and helpful psychic site that you will visit. We would like to invite you to come along with If you are not happy with your clairvoyant reading, you are eligible to receive a free 10 minute reading with another clairvoyant. This is only valid for Credit Card clients only. Please call the Psychic Helpdesk to authorise your credit. You must accept and agree to our Terms of Use before proceeding with the reading.
NT
In order to use our services, you must first accept our terms of use.
Please note that clairvoyants.com.au and its owners are not to be held responsible for any type of damages (including indirect, direct, incidental or consequential, or punitive damages) arising from using this site and its content.
Positive thoughts lead to good health and wellbeing.