Home
>
Famous Clairvoyant Psychics
>
Doris Stokes
Famous Clairvoyant Psychics
Doris Stokes
In 1978 Doris Stokes, despite her illness and own problems, became famous all over the world and one of the most well-loved psychics. This was because her love from and heart for everybody made her determined to bring hope to as many people as she can. With her popularity and clairvoyant insights, came many private sittings with famous people who are interested with the clairvoyant advice that she dispensed.
She continues to attract die-hard followers years after her demise, because of her down-to-earth candor, and practical approaches to the supernatural. She is believed by many to have helped bring psychic awareness and consciousness to the general public, because she helped de-mystify the phenomenon, and made it easier for the public to understand. When Doris was a kid, she was already noted to have seen the spirits of dead people. She was even reported to have seen her father's spirit, as well as the spirits of her long-lost relatives. Doris died in 1987, and she left a glimmering legacy of best-selling books and videos.
---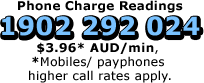 ---
Thank you for visiting our genuine clairvoyant site
We believe and hope that this will be the most beneficial and helpful psychic site that you will visit. We would like to invite you to come along with If you are not happy with your clairvoyant reading, you are eligible to receive a free 10 minute reading with another clairvoyant. This is only valid for Credit Card clients only. Please call the Psychic Helpdesk to authorise your credit. You must accept and agree to our Terms of Use before proceeding with the reading.
NT
In order to use our services, you must first accept our terms of use.
Please note that clairvoyants.com.au and its owners are not to be held responsible for any type of damages (including indirect, direct, incidental or consequential, or punitive damages) arising from using this site and its content.
Positive thoughts lead to good health and wellbeing.