Clairvoyants Home
>
Famous Clairvoyant Psychics
Jeanne Dixon
Jeanne Dixon is considered as one of the most commercially-successful psychics of the modern era. She rose to prominence in the 1960;s when she supposedly predicted the assassination of US president John F. Kennedy. She also predicted that Richard Nixon would be elected president, and that United Nations Secretary-General Dag Hammarskjold would perish in a plane crash. She however also had her share of misses. Among her failed predictions was the outbreak of a major civil war in the 1980's, as well as her prediction that aliens from outer space would come to give mankind the power to fully harness the sun's energy.
---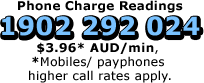 ---
Thank you for visiting our genuine clairvoyant site
We believe and hope that this will be the most beneficial and helpful psychic site that you will visit. We would like to invite you to come along with If you are not happy with your clairvoyant reading, you are eligible to receive a free 10 minute reading with another clairvoyant. This is only valid for Credit Card clients only. Please call the Psychic Helpdesk to authorise your credit. You must accept and agree to our Terms of Use before proceeding with the reading.
NT
In order to use our services, you must first accept our terms of use.
Please note that clairvoyants.com.au and its owners are not to be held responsible for any type of damages (including indirect, direct, incidental or consequential, or punitive damages) arising from using this site and its content.
Positive thoughts lead to good health and wellbeing.