Home
>
Famous Clairvoyant Psychics
>
Sylvia Browne
Famous Clairvoyant Psychics
Sylvia Browne
Sylvia Browne is world renowned for her clairvoyant psychic talent, her counseling ability, and her research into parapsychology. Sylvia is well known for her dynamic, genuine, down-to-earth style and personality. She lectures, teaches, and counsels people from Africa, Europe, Asia, and Australia and Canada. Sylvia manifested her psychic ability at the age of three, in her home town of Kansas City, MO. For many years she shared her gift with friends and family, and became very well known for helping people to see their future. Moving to California in 1964, she continued assisting people privately. Sylvia then wanted to make a professional, legally sanctioned organization to further her research into the paranormal. This goal was realized in 1974 when Sylvia incorporated The Nirvana Foundation for Psychic Research, a nonprofit organization. Since then, Sylvia has helped thousands of people gain control of their lives, live more happily, understand the meaning of life, and to find God in their own unique way.
Sylvia's philosophy of life is based upon research into past lives, via hypnosis, and through the information obtained via Sylvia's deep trance channeling ability. From thousands of hypnotic regressions, and hundreds of trance sessions, the fact of reincarnation was established as the key to understanding life. Sylvia accepts reincarnation as a central theme in her philosophy, yet this belief is never forced upon anyone who does not want to hear it.
Sylvia does many public appearances each year, from her two hour one-woman show, to benefits for charitable organizations, especially AIDs related organizations. She is involved with community activities and donates many hours to help find missing children and also working with police to solve crimes.
---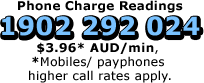 ---
Thank you for visiting our genuine clairvoyant site
We believe and hope that this will be the most beneficial and helpful psychic site that you will visit. We would like to invite you to come along with If you are not happy with your clairvoyant reading, you are eligible to receive a free 10 minute reading with another clairvoyant. This is only valid for Credit Card clients only. Please call the Psychic Helpdesk to authorise your credit. You must accept and agree to our Terms of Use before proceeding with the reading.
NT
In order to use our services, you must first accept our terms of use.
Please note that clairvoyants.com.au and its owners are not to be held responsible for any type of damages (including indirect, direct, incidental or consequential, or punitive damages) arising from using this site and its content.
Positive thoughts lead to good health and wellbeing.