Home
>
Famous Clairvoyant Psychics
>
Uri Gellar
Famous Clairvoyant Psychics
Uri Gellar
Uri Geller was born in Israel on December 20, 1946.
Uri Gellar and Inventions
Geller, with his friend Meir Gitlis who heads an electronics company, has developed a number of inventions that are already in production: the Moneytron (tells a fake banknote from a genuine one), the Diamontron (does the same for diamonds), the Gazgal gas leak detector, and a number of security devices including sensors for defence installations. Another invention is the Gold-Meter, a compact electronic device for examining solid and other precious metals by an electro-chemical process controlled by a micro computer.
Their latest invention is a small earthquake sensor, which is affordable enough for every home. They have also developed an earthquake shock absorber which should go into the foundations of new buildings such as skyscrapers.
For users of hand held Cellular Telephones there is a shield which prevents the harmful effects of long term exposure to the shortwaves penetrating your head.
Uri Gellar and Movies
In 1995 a major motion picture inspired by Uri's life has been produced with the title Mindbender: Directed by Ken Russell, it stars Ishai Golan as Uri and Golden Globe and Oscar nominee Terence Stamp as the scientist who discovered Uri in the early 1970s. Mindbender is the first film in motion picture history to allow the audience to "interact" with the screen action. Music is by the Bee Gees, Moody Blues, Elton John and Peter Gabriel. Distributed by Disney's Buena Vista & Arron Spelling's Republic. In 2001 on the invitation of two young British filmmakers graduates of Southampton Institute, Uri was asked to take a small part in their up coming movie, a psychological, medical horror film called Diagnosis. Uri was so impressed with the story line, quality and the method with which Diagnosis was directed that he formed a partnership with, James Eaves and Johannes Roberts who also wrote the music they are going to produce five new movies. Their next project will be a film called Alice, followed by the life of Salvador Dali, who Uri knew. James Eaves and Johannes Roberts are indirect protégés of legendary director Ken Russell.
Uri Gellar and Arts
Uri's artistic skills began during his early childhood. Since then he has been drawing and painting, having exhibited his artworks in major galleries and museums around the world. His latest creations include designing pottery, crystal, glass and jewellery for Poole Pottery and QVC. Uri's drawings have also been featured in Belinda Carlisle's and Michael Jackson's (Invincible) latest albums. Uri's style was influenced by Picasso, Salvador Dali (whose 'pupil' he was), Andy Warhol and Peter Max. All of these artists Uri have met.
---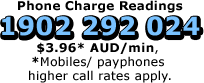 ---
Thank you for visiting our genuine clairvoyant site
We believe and hope that this will be the most beneficial and helpful psychic site that you will visit. We would like to invite you to come along with If you are not happy with your clairvoyant reading, you are eligible to receive a free 10 minute reading with another clairvoyant. This is only valid for Credit Card clients only. Please call the Psychic Helpdesk to authorise your credit. You must accept and agree to our Terms of Use before proceeding with the reading.
NT
In order to use our services, you must first accept our terms of use.
Please note that clairvoyants.com.au and its owners are not to be held responsible for any type of damages (including indirect, direct, incidental or consequential, or punitive damages) arising from using this site and its content.
Positive thoughts lead to good health and wellbeing.