Home
>
Horoscopes
>
Libra
Horoscopes
Libra
People born from 24 September to 23 October belong to the zodiac sign of Libra. Libra is represented by Scales and its ruling planet is Venus.
Libra is the only sun sign in the entire zodiac whose symbol is neither human nor animal. Scales is an inanimate object. Libras draw the traits of their nature and personality from their symbol as well as their ruling planet.
A scale is a symbol of objectivity, justice, accuracy, balance, precision in assessment of person, situation or event. These traits are liberally reflected in an ordinary Libra personality.
Libras are known for their virtues of judiciousness, objectivity, impartiality and accuracy in their thoughts, comments and opinions about different people, situations, events, problems or relationships.
Libras first give people what they expect from them in return. This explains why Libras are often tolerant, just, considerate, sensitive, kind, loving, sincere, highly cultured, descent, honest and compassionate. As such, those who know Astrology or Psychics, consider Libras to be among the most sought after partners in love, marriage, friendship or business.
So much so, some expectant mothers try to prematurely deliver their babies if their dates fall a little beyond the Libra period. Others try to marry Libras so as to get their traits in their prospective babies.
Libras, of course, also draw their physical features and appearance from Venus, the goddess of love and beauty. Female Libras can be stunningly beautiful, curvaceous and sexy. They have well-defined and sharply chiseled features as if conceived and created by some divinely inspired artist.
As opposed to the commonly held opinion of beauty being associated with indifference cruelty, Libra women are kind and warm hearted. Although conscious of their attractive looks, they are not vain, conceited or haughty. They are charming and sweet tempered.
They are always willing to go an extra mile to compromise with and accommodate the idiosyncrasies of their partners, spouses and children. They are loyal wives, sacrificial and loving mothers.
Libra males and females are, generally, extrovert, social, cultured and gregarious people. They are very restrained, careful, patient, and diplomatic in expressing their views or comments on others. They talk to the point and are rarely critical about others.
Most Libras are family centered people and don't interfere with the lives of others. They have zest for life and zealously participate in social activities and functions. They are always smartly and fashionably dressed and meticulously made up.
They generally try to stand by their partners through ups and downs offering moral and material support whenever they go down.
Libras are highly sensitive and empathic people. They try to get into the minds of others and understand their views from their perspectives. They try to sacrifice as much as they can to maintain the sanctity of their relationships and stop them from breaking up. They normally do not allow their egos to stand in the way of arriving at compromise solutions that may even be to the advantage of the other persons and hurt their own positions.
They are highly optimistic people and they always try to look at the brighter side of the even the worse situations, always hoping that something better would turn up. Most Libras are religious minded people. They believe in the benevolence of God and try to find solace in his dispensation.
They avoid showdowns and conflicts in their relationships even with distant friends or relatives. They are highly refined people and refrain from using rough or vulgar language even when they are provoked.
Libras are not deterred by the obstacles, tragedies or set-backs and keep moving on with their life. You can see Libras, socializing, enjoying parties and wearing the best of clothes and make up within a few days of the tragic events occurring in their lives.
---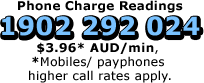 ---
Thank you for visiting our genuine clairvoyant site
We believe and hope that this will be the most beneficial and helpful psychic site that you will visit. We would like to invite you to come along with If you are not happy with your clairvoyant reading, you are eligible to receive a free 10 minute reading with another clairvoyant. This is only valid for Credit Card clients only. Please call the Psychic Helpdesk to authorise your credit. You must accept and agree to our Terms of Use before proceeding with the reading.
NT
In order to use our services, you must first accept our terms of use.
Please note that clairvoyants.com.au and its owners are not to be held responsible for any type of damages (including indirect, direct, incidental or consequential, or punitive damages) arising from using this site and its content.
Positive thoughts lead to good health and wellbeing.